This might be my proudest moment ever as a parent. Cooking with the kids has had many stumbling blocks and of course successes. One of my favorite moments was when Shae and I made our own chewy soft pretzels and the non-cooking post with the clay mini food. This week for #kidsinthekitchen Shaun stepped up to the plate and cooked these Fried Cinnamon Apple Rings just about by himself.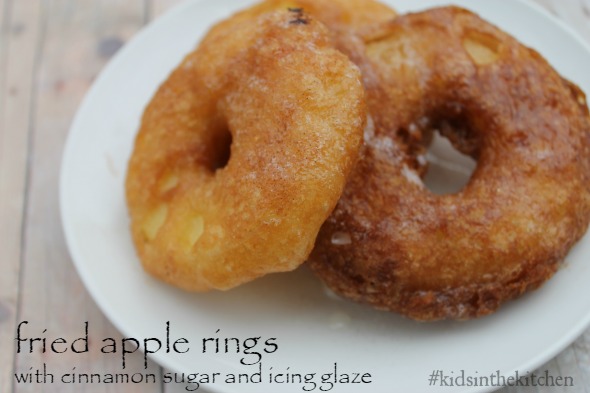 Shae and I started on our own like usual. I cut & cored the apples, Shae made the batter, cinnamon sugar and powdered sugar glaze.  We had a little assembly line going and I attempted to have her add the apples to the oil but she was scared so I stepped in for that.
Shaun wandered in and immediately wanted to help. He took over at the stove and manned the frying stage.  I stepped to the other side of the kitchen and let him do it. He did wonderfully with very little guidance from me.  We didn't have the Copper Crisper from New Easy so I was nervous with him being so close to a pot of hot oil but he proved himself worthy.  Shae kept saying that they were doing so good they could make these all the time. I squashed that idea and made sure they understood this was a parent supervised activity.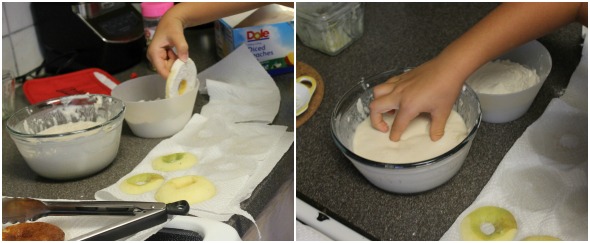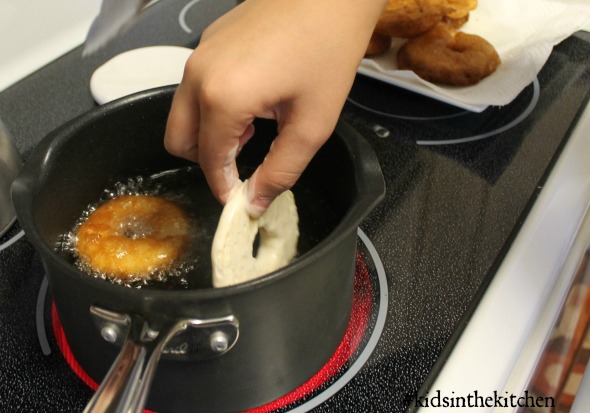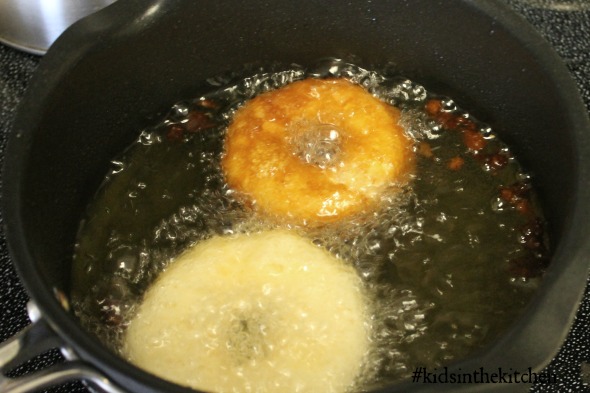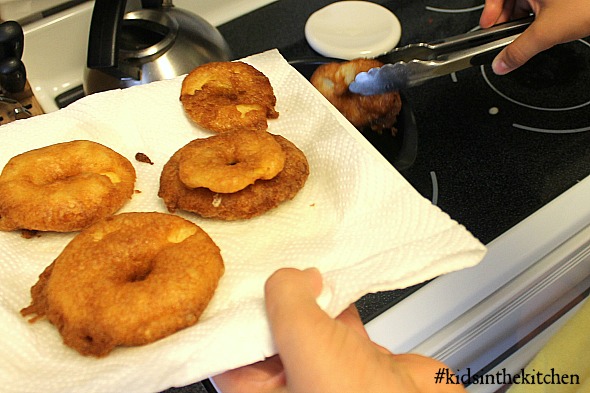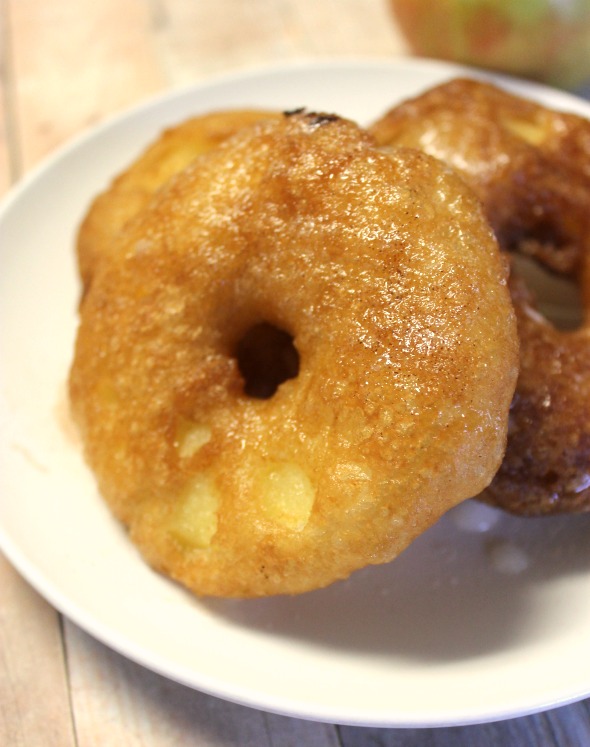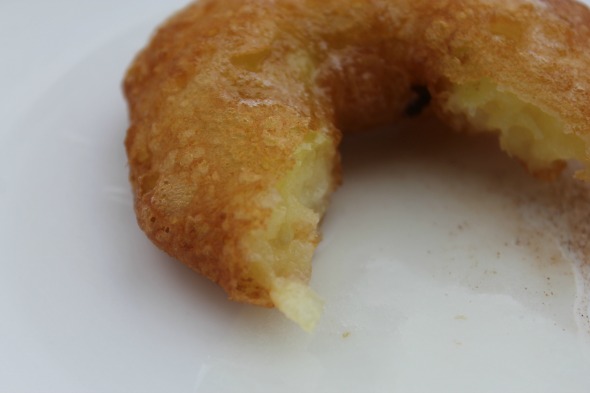 They made a great team. Shae dried the apple rings, dipped them and Shaun fried them. Great teamwork.
These tasted just like the apple cider doughnuts we get from the orchard. The apple is still a bit firm but the cinnamon and crisp batter are warm and inviting and it's easy to eat and eat and eat.
Ingredients
3 medium size apples, we used honey crisp but granny smith would be great
1 cup plus 1 cup complete pancake mix
1 cup water
2 tbls sugar
1/4 tsp cinnamon
1/2 powdered sugar
2-3 tsp milk
canola or vegetable oil for cooking
Directions
In a large sauce pan heat oil up to 350 degrees
Slice peeled apples into 1/2 inch thick rings.  Using a small cookie cutter (or large frosting tip) remove core and seeds.
Set aside on paper towels to dry.
Mix 1 cup pancake mix & 1 cup of water till most lumps are gone, set aside.
Mix sugar and cinnamon in small bowl, set aside.
Mix powdered sugar and milk in small bowl till smooth, set aside.
When oil has come to temperature dip apple rings in remaining dry pancake mix then into prepared pancake batter. Shake excess batter off apple rings before gently dropping in oil.  I had Shaun hold 1 inch of the coated apple in the oil to set before dropping in. This helped them from sticking to each other.
As they turn a golden brown gently turn them and cook the other side. The rings should be done in 3-4 minutes.
Remove and let drain on paper towels.
Sprinkle with cinnamon sugar while they are hot. Drizzle them with glaze as you serve them.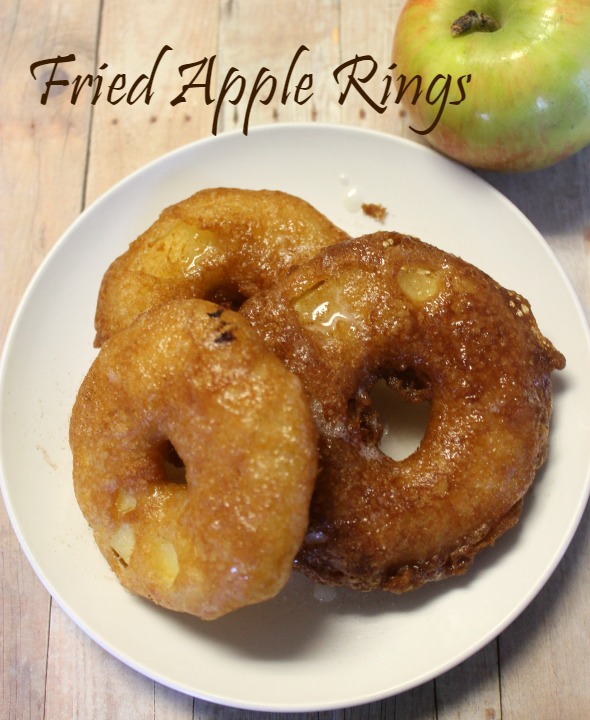 Come join me and my co-hosts, Paula at Frosted Fingers, Sara at Sensibly Sara, Kate of Busy Bee Kate & Jeannette of EcoIncognito each week linking up a post, new or old, that feature the theme Kids in the Kitchen. It doesn't matter what you are doing as long as you are doing it together, enjoying it and learning something along the way.
preparing healthy snacks
having a tea party
discovering a local restaurant that your kids love
creating new family friendly recipes
You'll find these and many more ideas for healthful and unique food fun on the #KidsintheKitchen Pinterest Board.
Follow Melinda Babiak's board #KidsintheKitchen on Pinterest.