Our kind of vacation is a beach vacation. I like the lounging on the sand, watching the waves crash just inches from my toes, immersing myself in a good book and soaking up the sun. My kids also love the beach but there comes a point where they want adventure.
Rides, cotton candy,pizza and water parks is exactly what they crave. The Jersey Shore gives our family everything we want.   For Father's Day weekend we were able to do everything we wanted, no rules, no barriers.
Wildwood, NJ has always held a special place in my heart. It's the only memory I have a family vacation as a child.  The look and feel of the boardwalk is the same, the salty smell driving down Rio Grande Avenue is always familiar.
To be honest I've been creating memories with my own family at a different beach. Wildwood wasn't the same place as it was when I was young. The level of visitors changes, the atmosphere wasn't as family friendly as it used to be. This beach resort town changed.  We visited time to time over the years and the kids LOVED the
water parks
.
This past Father's Day Weekend I was able to give my family the mini vacation they needed to see out of Wildwood, NJ.  
Morey's Piers
& Beachfront Water Parks were everything they promised to be.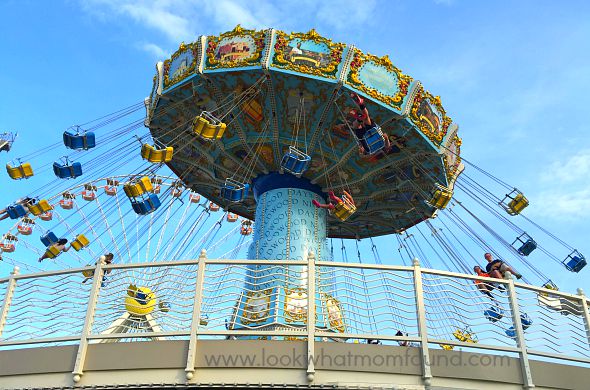 Morey's Piers offers 3 different locations packed full of fun for every member of your family.
Surfside Pier
on a Sunday morning was the best part of the weekend. It was literally a ghost town. The skies were cloudy and the winds were blowing so I'm sure that kept everyone tucked in their beds. We didn't let that stop us. We packed up and headed out to get there early; so early that we were the only patrons for about an hour. It never filled up so the kids had run of the entire water park for HOURS.
Our nights we full of funnel cake, seafood dinners and some of the best pizza in the world. Maybe it's the salt air or the fact that there isn't a worry in the world but everything taste better down the shore.
I'll admit, we may have had a little too much fun.
Special thanks to the Morey's family for the invitation and allowing me to show the kids that Wildwood is BACK!
Stay tuned to hear more about our great weekend away.