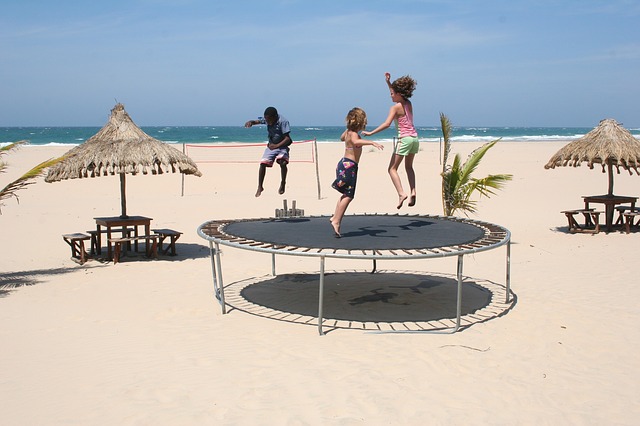 Africa can be best described as 'raw'. A place where you are deeply engulfed in nature and everything can be found in its originality. A place where tedious and monotonous everyday lifestyle fades away as you involve with nature. Such a place is great to show to your children. In Africa, they can enjoy watching animals and visiting villages observing how animals and humans live together in harmony. The African continent is not limited to just that; you can visit plenty of natural, urban and rural destinations that are family-friendly and safe.
However, keep in mind that travelling through Africa with your children onboard is sometimes challenging. Make sure to pick your bags according to the situation. We all know that travelling with children can often make it difficult to "pack light", but if you choose the right bag then the rest will come much more easily. For trips with transfers, I recommend avoiding wheeled luggage: lugging around your kids and a wheeled suitcase on rough roads is not something you'll remember with a smile. Opt then for a duffel bag, like those found  in this selection on Worldtraveler.com, or even a backpack.
Namibia
Does the thought of sand dunes excite you? Then Namibia is the place for your next vacation. Take a trekking journey over the sand dunes or an exhilarating hot air balloon ride over the desert. Ancient rock carvings can also be found at Twyfelfontein in north-western Namibiawhich are over 6,000 years old. When all the aridity tires you and your children, head over to the Waterberg Plateau or Etosha National Park to discover colorful bird species. There are plenty of accommodation options in Namibia offering the perfect family experience, delicious cuisines, breathtaking views, and excellent services.
Mozambique
Situated in Eastern Africa, Mozambique offers some of the most beautiful beaches along with interesting natural and wildlife reserves. If your family is looking for a great urban experience, the capital city of Maputo has some great restaurants to enjoy the local cuisine and shopping districts to explore cultural clothes. The Bazaruto Archipelago is a must-see site in Mozambique. The white sand beaches and water activities such as diving and snorkeling combine to make your family vacation memorable.
Kenya
Kenya is a hot destination for tourists, and why shouldn't it be? The country has a mix of urban, rural and wildlife vacation options. A trip to Maasai, a tribe best known for their unique customs and clothes, of southern Kenya can prove to be an exciting experience for your kids. Children can learn valuable lessons and use them in their daily lives. Apart from that, a safari trip in Kenya is something you should not miss. Observing wildlife closely in an unadulterated environment can prove to be thrilling as well as informative. There are plenty of tour guides in Kenya offering their services at competitive rates for families.The service usually includesa detailed tour of the wilderness, especially the Mara River.
South Africa
The urban city of Cape Town should be in your itinerary if your family yearns to enjoy a sunny day out on the beach. The Kruger National Park is a famous destination that attracts thousands of tourists annually. The Park is a great place to see animals in their natural habitat free from cages. Being one of Africa's largest game reserves, the Kruger National Park hosts a wide range of colorful birds as well as the Big 5 (lion, leopard, elephant, buffalo and rhino). Look to stay in the Lion Sands Game Reserve, as the resort offers special activities as well as menus for children, plus a night out under the stars in a tree house.
Botswana
This landlocked country is known for the famous Kalahari Desert as well as for abundant marshes and swamps. Botswana has the largest Elephant population of the world and hence it is a very popular safari destination and great for some family fun. Although the land safari is exciting, the river safari is an entirely different yet exhilarating experience to watch river mammals and reptiles such as crocodiles, hippos etc. Try to find a place in luxury resorts and camps to make the most of the trip.
Uganda
Enjoy an hour of fun with your fellow mammals, gorillas in the dense forests of Uganda. Children are accustomed to seeing gorillas in cages but in Uganda they get to see them in their natural habitat climbing trees, thumping their chests and eating their unique delicacies. Other than gorillas, you can take your family on a cruise or a canoeing trip if they are a little older. The pearl of Africa also has mountains to trek and climb. The Nkuringo Gorilla Camp is an eminent place to enjoy walking safaris and the local cuisine.
Tanzania
Tanzania is a country riddled with wildlife, so South African safaris are an integral part of tourism. Sounds similar to some other destinations on this list, right? Well, not exactly. While Tanzania has beautiful Serengeti plains and Ngorongoro Crater, it also has Mount Kilimanjaro, Africa's highest mountain peak. The tour guides will take you and your family on a week-long trekking trip on Mount Kilimanjaro, where you can enjoy the stories told by the guides while relishing some mouth-watering local food. If this is not enough to persuade you, watch a few National Geographic documentaries of the region and you will immediately be sold.
While these may seem a lot of destinations, they are just a glimpse of the beautiful African continent. It isa place your kids will love and make valuable memories.