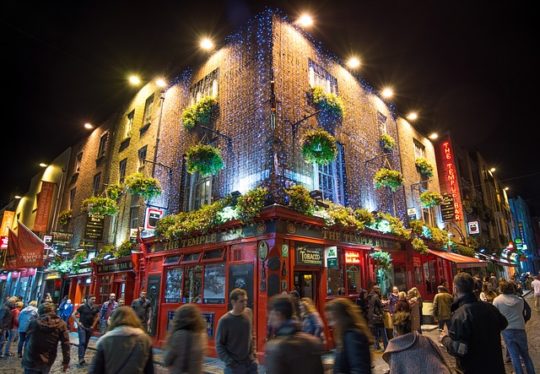 Ireland seems to have it all: beautiful landscapes, rich history and the friendliest people on earth. For all these reasons and more, many families plan a trip to the Emerald Isle.
Dublin is typically the starting point for the rest of the vacation, since it's the most popular point of arrival for international flights coming into the country. Once you arrive at the airport, you need not to worry as you can either use taxi services to get to and from Dublin, rent a car or use the bus.
Once, you've settled that, make the most of your time there and have a plan to keep everyone entertained.
And how to do that? Just read on our best family activities to do in Dublin.
Dublin is compact, so you can see a lot in just a few hours. With school-age children, go for a walking tour. The right guide will introduce your family to both the city's main attractions and its rich history, adding value to places your family might explore independently later in the trip.
Be sure to take the Viking Splash tour, especially if you have younger kids. Every little transportation lover will delight in hopping aboard this military-style vehicle, and it allows families to take in Dublin from the water in addition to land, as you venture up the River Liffey.
TIP: Take the Viking Splash tour in the morning when traffic is lighter.
Dublin might not have a well-known reputation for fancy cuisine, but in the past few years it has actually been a pioneering hub of the local food movement. Take a walking food tour and sample the city's many delights, from chocolate to cheese, to, of course… beer!
Speaking of beer, many families think it's not possible to incorporate a stop at the Guinness Storehouse with children, but indeed you can.
The Guinness Experience is actually an interactive museum about how Guinness is made, which ends at the Gravity Bar, where you have fantastic views over the whole city.
TIP: Did you know that children under 13 are free at the Guinness Experience? Well, now you do.
Before you leave, plan one last blast of family fun in Dublin's Phoenix Park. It is the largest enclosed city park in Europe, so families can easily spend a full day here. There is something to please everyone, from old military installations, forts to Victorian gardens. They're all ready for children to explore while parents admire the beauty and history.
You may even be joined by the wild deer that call this park home. More active families can rent bikes and those with younger kids will definitely want to take note of the Dublin Zoo, also found in Phoenix Park.
Fun fact: The home of the President of Ireland is located in the park.
Over to you! Dublin is a great city for a mix of education, new experiences and time to play meaning everyone can find something to love.