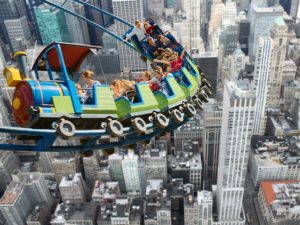 While Disney World and Disneyland continue to consistently dominate lists of the top family destinations in the United States, it may surprise you to learn that New York City is never far behind. It isn't just about historic landmarks, shopping, and Broadway; there are literally hundreds of other family-friendly places to go and activities to do on a trip to the Big Apple. If you are planning a visit with kids soon, read on for suggestions on where to go and what to do that will appeal to the entire family.
Go on a thrilling adventure
Hunting down ghosts may not be the first thing that comes to mind when thinking of things to do while on vacation, but if your children are up for a fascinating and spooky adventure, going on a tour to discover the Ghosts of New York City would definitely be a unique way to sight see and learn more about the city. This 90-minute walking tour will take you and your family on a trek through Greenwich Village, where you gain a new perspective on one of the oldest and most culturally diverse cities in America.
Satisfy your sweet tooth
If you have very young children and New York City haunted tours may be too frightening for them, consider going on a chocolate tour instead. This is a fantastic way to explore Brooklyn with kids. The tour starts from Union Square in Manhattan and takes you to several of the best chocolate shops in the city that offer delicious traditional and artisanal chocolates—all made and/or originated in Brooklyn. Besides getting to taste lots of scrumptious chocolate, this tour will also give you one of the best views of the Statue of Liberty, and offers plenty of other entertaining distractions along the way for your kids.
Spend the day outdoors
No visit to New York City is complete without a trip to the world-famous Central Park. No matter what the season, there is plenty to see and do in what is affectionately known as "New York's backyard." During the winter, you can rent skates and take a whirl around the Wollman Rink. In the summer, there is no end to the fun activities the park has to offer. You can go on a picnic, rent bikes to ride around the park, join storytelling time, or ride the carousel. There is even a perfectly-sized zoo where you can see a diverse range of animals from tropical creatures to penguins. Little ones might particularly enjoy feeding sheep, goats and other small farm animals.
Go museum hopping
The Metropolitan Museum of Art is arguably the most well-known museum in New York City, but there are plenty of other more kid-friendly venues throughout the area. There is the Children's Museum of Manhattan, especially designed for children aged six and under. It offers bright and colorful exhibits featuring popular cartoon characters, and fun water play activities. If you have older children, you could spend an entire day at the National History Museum and still be unable to visit every exhibit; there is just so much to see and do. Marvel at the breathtaking displays of dinosaurs, an enormous blue whale, and majestic African elephants, and don't forget to catch a show or screening or two.
Whatever your children's interests are, New York City has plenty to offer, and no matter when you plan to visit, you can surely find lots of activities that everyone in your family will thoroughly enjoy.