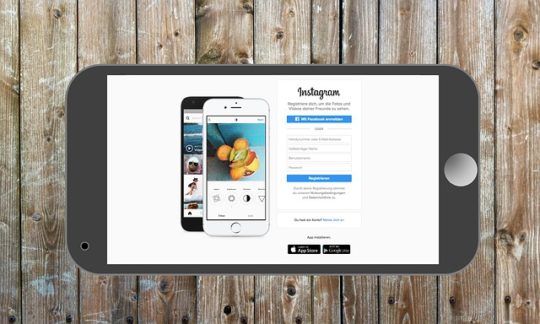 Being a mom is one of the most difficult jobs in the world. It truly is. Motherhood can be thankless and stressful. There are probably days you think you're not cut out for the gig. We all feel that way from time to time. It's natural. That's when you could use a little motivation and reassurance that other mothers are going through the same trials and tribulations.
Social media can be a parent's lifesaver when it comes to connecting with other parents, sharing stories and gaining information. Instagram is one of the most popular of the platforms. If you're seeking content from other mothers to help you feel better, take a look at these seven Instagram mom pages to follow for inspiration. You won't regret it.
The first Instagram account on the list is actually a mommy/daddy duo, but their photography and content are so amazing that they simply must be featured here. Katie Rose is the mom, and she shows the life of her family in ways that are cool, yet inspiring. The couple lives in Nova Scotia. Between the backdrop of the locale and their lovely home, the images in this account are simply wonderful. If you're a beachy cottage lover, you'll be in heaven.
If you're looking for a down-to-earth mom who tells it like it is and is absolutely genuine,you'll love Kelly of Simple Living Folks. She describes herself as a homeschool mama and woodland homesteader. That should give you an idea of her values.She's so much more, though. Kelly is an advocate for body positivity and is free in sharing her flaws. You'll feel like you're hanging out with your best pal.
Amie Jay is the mom behind Mommy's Inside Voice. She informs you right in her bio that she's a blogger with a potty mouth, which some of you might find immediately endearing.This Instagram influencer mom is also a birth and postpartum doula. How cool is that? Amie's pretty, but not too perfect. She shows you her messy side in photos, along with some really funny and motivational memes. Did we mention potty mouth? It's okay, though. Her family is adorable. Check them out.
If you love beauty and fashion, you have to check out Meg O. This Houston blogger seems to have it all. She's pretty, stylish and put together. She's also a mom, just like the rest of us, trying to do her best to manage family life.
Meg gives you a behind-the-scenes look at how she puts it all together with makeup and fashion tutorials. She also takes us along on her adventures, as she and her family are avid travel enthusiasts. Meg has tons of Instagram followers and with reason. She's fabulous.
You will love Lauren! Her Instagram bio reads, "I'm a mom, but there are some other cool parts about me, too." She'll remind you that you are an individual with needs that go beyond your family. And that's okay. We all need that reminder once in a while. Her photos are bright and happy. Your mood will improve just scrolling through her feed.
She also keeps it real, though. Lauren will remind you of the best friend you've always wanted.She covers a wide range of topics, including food, home, shopping, gift ideas and more. She's open with her personal thoughts and views in a way that is reassuring with a bit of fun.
Moms looking to be healthier will want to follow Katy Ursta. So will anyone who loves a dose of humor every day, as this is one funny chick. She's a cancer survivor who offers inspiration on embracing life and all it has to offer. She's also a business owner, so this is a great place to stop if you want some tried and true marketing advice.
You'll find fun photos of Katy as she works out, while mommin' it up and managing it all. Her humorous memes are always a nice treat on those sneaky stressful days. She's a ray of sunshine. Her smile shines through and shows you her true personality.Katy's definitely one to add to your list of mom Instagram accounts to follow.
How's that for a mouthful? Relax, you can just refer to this Instagram sensation as Stefanie.Her feed is definitely the place to come if you're looking to meet an inspirational mom who manages a very full plate. She has four kids, with one on the way. One of her children was born with Down's Syndrome. So, Stefanie is an outspoken advocate for special needs kids. She's also a bookworm, runner and professional blogger.
How on earth does this woman do it all with such grace? Her posts feature family life uncut, and she takes great care to feature each of her kids. This is a great way to focus on a particular age range if that's important to you. It's also fun to follow Stefanie's pregnancy progress posts to share in her special journey.
These moms are all fantastic in their own ways, just as we all are. It helps to get an inside view of a range of different lifestyles and parenting approaches, especially on those days when you feel like you're just not doing anything up to par. Start with these mom pages for the inspiration and motivation you need to make it through. They'll keep you busy for a while.