Who doesn't love dogs? If your kids have grown up and turned into teenagers, who want to earn. Although you are paying and will continue to, they want to make money on their own for something that means something to them or something that you wouldn't get them. Don't be worried. Dog walking is a good job for them to have. If done right, it can even turn into a lucrative side-hustle. Plus, they will enjoy doing it. You also don't have to get them a pet if you don't want to because they will anyway be spending time with different dogs. But, it can also make them want a dog that much more.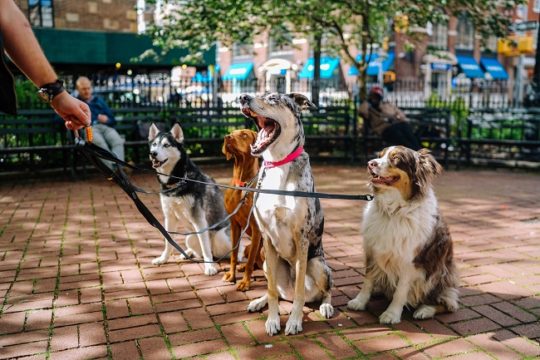 Until it is just for hobby, it isn't much of a problem. When you start taking this job seriously, just like any other small business, there is a lot to know and learn, and it comes with its own set of challenges.
If your kid is saving money for some concert or buying something, tell them to first determine how much they need to make. This is very important because then they will understand how much work they would have to put in order to make the amount of money they need. This will also help them make a plan, as to how much time do they need to set aside for this and how many dogs do they need to walk. Help them calculate how many days they would need to work to get the money, or if there is a deadline to what they need money for then help them figure out how many hours they need to put in and how many dogs they can see.
Even if they are doing this temporarily, tell them to see it as starting a business. This gives them practical experience that can help them in the future. You can turn it into a learning activity. Help them research other dog walkers or dog walking companies in your area. What do they offer? What do they charge for the services? Is there a package deal? How much do different packages cost? Let them gather as much information as they can because then they will learn the importance of requirement gathering before starting a business.
The dog walking industry has boomed in recent years. So, there are going to be a lot of professional services around. Teach them to not get discouraged because of the competition. They can give more personal attention to each client than a company can. They should bank of the fact. This also teaches them the importance of building good relations, treating people right, and negotiating.
They learn how to convince people why to hire them, they learn how to report back and give suggestions, they learn how to deal with clients. The teachings that come are more valuable than money. Plus, they get to play with dogs. Don't worry if your child wants to make money on their own, help them and teach them so that they are well prepared for the future.