A few months back I worked on a Girls Night Out with ACMoore were I made a Quilled Roses Mini Wreath and a Decorated Notebook. We left that night with a bag full of swag that included some fun kid friendly stuff. This Klutz Make Clay Charms kit. I've been holding onto it for just the right time and this week was it.  It was an electronics free day; no tv, no video games, no iPods, no tablets.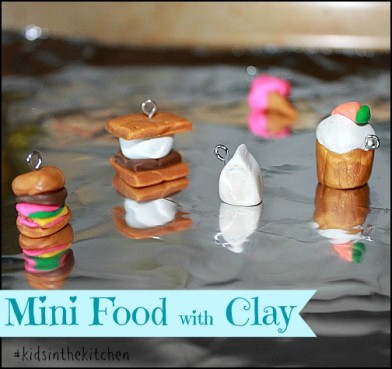 We did crafts, played games and worked on making mini food items with sculpting clay.  The clay itself wasn't the special part, the book with the directions on how to make mini cupcakes, s'mores, popsicles and burgers was the best part.  It was so detailed that Shae and Shaun was able to construct these adorable little pieces with very little help from me.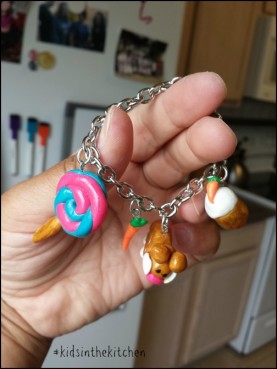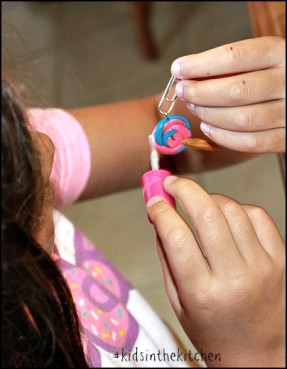 Anything miniature is so cute but when you pair up a loaded burger and fries together it's hard not to giggle a little.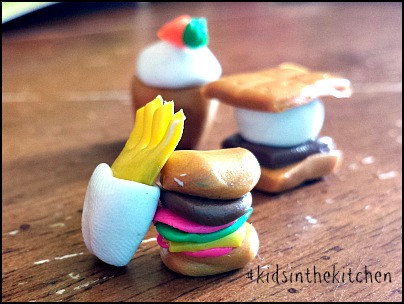 Did you have fun in the "kitchen" this week? Did you try a new food or a new kid friendly restaurant? Did your littlest ones use their snacks to count to 10? We invite you to share your experiences, photos, stories or recipes that include your #kidsinthekitchen.
Come join me and my co-hosts, Paula at Frosted Fingers and Sara at Sensibly Sara, each week linking up a post, new or old, that feature the theme Kids in the Kitchen. It doesn't matter what you are doing as long as you are doing it together, enjoying it and learning something along the way.
preparing healthy snacks
having a tea party
discovering a local restaurant that your kids love
creating new family friendly recipes
Don't have a blog? Share an instagram photo or Facebook update.