Theo LeSieg, Rosetta Stone, Theophrastus Seuss. These names may sound familiar; they should. They are all different pen names used by Dr Seuss. Theodor Seuss Geisel career is a colorful one. One that spans newspapers,magazines and of course books. The Cat in the Hat is probably the most widely recognized Dr Seuss work but his other additions to the children's literary device world are equally as awesome. I've put together a collection of great kids crafts and activities that would make for a great way to celebrate Dr Seuss' Birthday on March 2nd.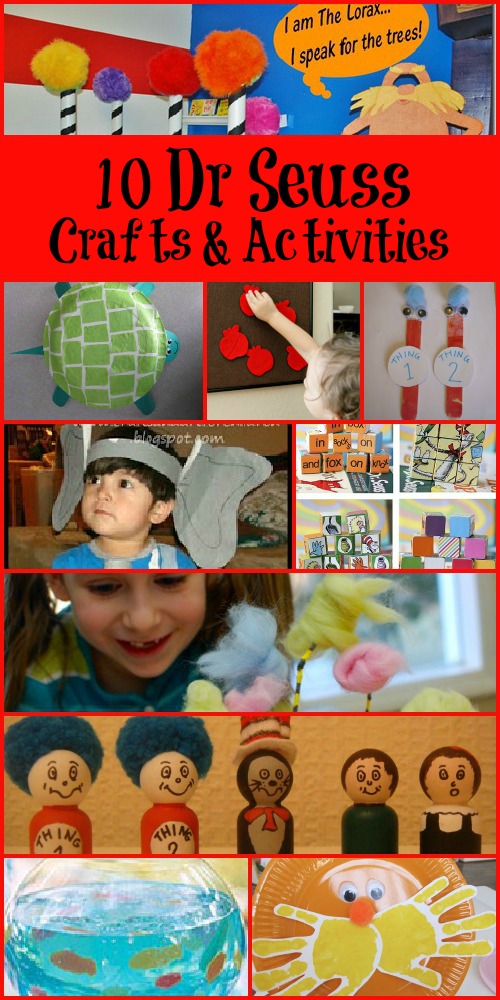 Having Fun at Chelles House
Big Fun with Lorax
Making Boys Men
Cat in the Hat Wooden Peg Dolls
Because I Said So
Yertle the Turtle Paper Plate Craft
See Vanessa Craft
Apples Up On Top Felt Board
Toddler Approved
Thing 1 and Thing 2 Puppets
Crafts and Things for Childrens
Horton Hears a Who Craft
Inner Child Fun
Lorax Truffula Tree Craft
Sugar Bee Crafts
Dr Seuss Activity Blocks
Jersey Family Fun
One Fish Two Fish Aquarium Treats
A Little Delightful
Lorax Paperplate Craft
How are you wishing Dr Seuss a Happy Birthday this year?