It's that special time of year when you approach your local grocery store, shopping center or small business and can buy Girl Scout Cookies. I don't know what they put in their recipe but each year buying this a must. Walking up to the table the girls are armed with smiles and boxes in hand. How can anyone resist.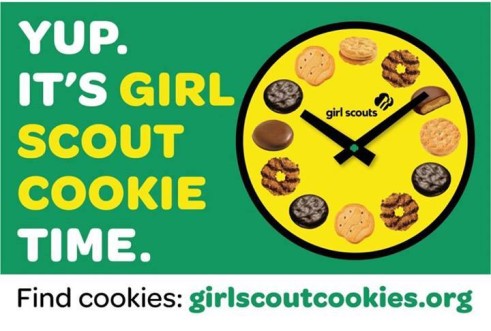 Buying cookies each year is way more involved than just already breaking your New Year's Resolution diet. The cookie program is a lesson in life skills:
building a business
understanding financial literacy
establishing relationships
organizational skills
persistence
effective communication
All of this is happening as you are tearing open that box of Thin Mints on the way to your car.
Each time you purchase a box of Girl Scout cookies that money goes right back into the organization to provide services to the community and fund trips and activities for the girls. Empowering the Girl Scouts today with confidence, drive and camaraderie encourages them to create short term and long term goals for a future in science, finance, medicine and technology. Achieving those goals is the ultimate objective of the Girl Scout of the United States of America.
Show the girls scouts that they can accomplish whatever they put their minds to just by buying a box of cookies or two or eight, they freeze well. If you are interested in learning more about the Girl Scouts program for your own little girl or want to support the organization in any way they can be reached in many ways
Girl Scouts of the United States of America on Facebook
Girl Scouts of the United States of America on Twitter
Girl Scouts of the United States of America on Pinterest
Shae is at a perfect age to join. It's been mentioned in the past so it's something we're gonna look into very soon.