One thing we all know by now is that along with good hygiene practices; we need better immunity to fight the COVID-19 threat. While researchers across the world are inching closer towards a vaccine, we need to do our best to stay fit and healthy.
We can stay healthy by choosing nutritious and balanced diets that boosts our overall immunity and strength. So, here are some recipes to try out at home and make your family healthier!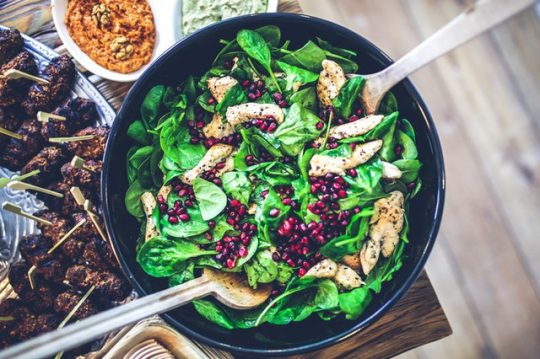 Beet and Cabbage Sauerkraut
Ingredients needed for this recipe,
3 Cups cabbage- finely sliced
1 Cup grated beet
⅛–¼ Cup sliced red onion – (optional)
One teaspoon fine sea salt
One teaspoon caraway seeds
One garlic clove grated
1–2 teaspoon grated ginger
Directions:
First of all, finely slice and grate the cabbage and beets. You would need approximately four cups of this.
Put in all the other ingredients along with the cabbage and beets in a bowl and mix well with a teaspoon of fine sea salt. Sit it out for an hour or two, while mixing it occasionally in between, until the cabbage has wilted and released a little water.
Now place the cabbage beet mixture and all the juices in a very clean mason jar and pack it down with the end of a wooden spoon.
After that, if you think the amount of liquid is slightly less what is needed to cover the jar, mix one teaspoon of sea salt with one cup filtered water, and add just enough of this brine, so that the cabbage -beet mixture is submerged-with at least an inch of space at the top of the jar. Now, put in the fermentation weight with a whole cabbage leaf, and push it down.
Now, place this a cool dark place (about 65 -72 degrees F) for 3-5 days. In colder climates, it may take you a long time to ferment the mixture.
After about three days, check if bubbles are coming on top, this would mean that the fermentation is happening. Depending on how much you want to let it ferment, check it out and place it to refrigerate.
Your immune booster is finally ready!
Spicy Miso Ramen with Chili Roasted Salmon and Bok Choy
I know this might not look like an immune booster after our first recipe, but trust me, this is one fully loaded power meal!
For this recipe, you will need the following ingredients,
To make the Salmon and Shiitake Marinade:
4–6 ounces of salmon, thinly sliced, about 3/4 inches thick – 3 to 4 slices per bowl.
Four ounces shiitake mushrooms, with the stems, removed, sliced.
Two tablespoons soy sauce.
Two teaspoons sugar or honey or maple syrup.
One tablespoon toasted sesame oil.
1–3 teaspoons garlic chili paste.
For Miso Broth:
Four cups of chicken broth or stock.
Two tablespoons miso paste.
1/2 teaspoon hondashi granules.
Two lengthwise, sliced small bok choy.
Three scallions – white part only ( the rest for dressing)
Four ounces fresh ramen noodles, cooked according to directions ( or two ounces dry noodles, cooked)
Garnishing:
Scallions
Soft-boiled eggs
Chili flakes
Toasted sesame seed
Toasted nori sheet
Chili paste
Crispy shallots
Directions:
First, preheat the oven to 400 degrees F.
Now, mix the soy sauce, honey, sesame oil, and chili paste together in a small bowl. Brush this marinade over both sides of the salmon and shiitakes and place on a parchment-lined baking sheet.
Cook the salmon in the oven for 4-5 minutes.
Now prepare the noodles and make the broth. Add miso, hondashi, and stir until it has combined.
Next, add the bok choy, scallions, and wilt. Keep at a very low simmer.
Put the noodles in a bowl and top it off with the salmon and shiitakes. Now, add the bok choy over it, along with the broth.
Garnish with fresh scallions, soft boiled eggs, crispy shallots, and chili threads.
Your healthy and tasty dish is ready to be served!
Broccoli lemon chicken with cashews
Ingredients you will need,
1 tbsp groundnut oil or sunflower oil
340g pack of mini chicken breast fillets (sometimes called goujons)
Two garlic cloves, sliced
200g pack tender stem broccoli (stems halved if very long)
200ml chicken stock
One heaped tsp cornflour
1 tbsp fresh good quality honey or 2 tsp golden caster sugar
the zest of half a lemon and the juice of a whole one
a large handful of roasted cashews
Directions:
Heat up oil in a large frying pan or wok. Now, add the chicken and fry for 3-4 minutes until it turns golden.
Now, remove it from the pan and add the garlic and broccoli. Stir fry for about a minute and then cover and cook for 2 minutes or a bit more, until it turns tender.
After this mix well, the stock, cornflour, honey, or sugar, then pour into the pan and stir until it is thickened.
Now, put the chicken back into the pan and let it heat. Now add the lemon zest and juice, as well as cashew nuts. Stir well.
Your Lemon chicken with broccoli is ready to be served with rice or noodles!
Final Words
A healthy recipe does not mean "no taste," so try these out and see for yourself!