Christmas is the perfect opportunity to spend quality time with your family and make cherishable memories! While you can have fun with your kids in a million different ways, but there are some exciting indoor ideas too. Bring in the holiday spirit by joining your little ones for a Christmas craft project for kids.
3 Fun and Easy Christmas Craft Projects for Kids
Snowflake Popsicle Ornaments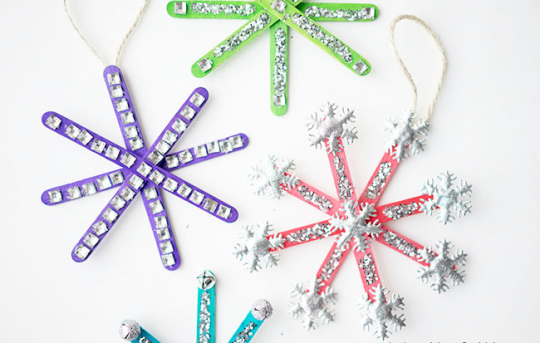 Christmas is incomplete without decorating your Christmas tree with some sparkly ornaments. So, how about we make some on our own? All you need for this craft project are some Popsicle sticks, string, glitter, shiny decorations, and any other decoration of your choice.
Color the Popsicle sticks with a couple of your favorite colors, or you can even use the Christmas themed colors. Now, glue the sticks together to create the shape of a snowflake. Then create a twine using a string and glue it to the back.
Decorate with your kids using glitters, stars, stones, and pompoms. And hang this beautiful masterpiece on a branch of your Christmas tree.
Pinecone Christmas Trees
This is the easiest Christmas craft project you've ever come across. So much so that you can even have a 3-year-old try this out. Moreover, it looks super chic when you place it on a side table as a Christmas decoration item.
To gather the supplies, you just need to go out into your backyard to collect some pine cones. Also, grab some wooden slices lying here and there. Now, the kids can paint the cones with solid green acrylic color.
Leave it for drying and once it is completely dry, make snow on the branches by painting the tips of the cone white. Next, add tiny colorful dots on the leaves of the tree. These will work for the Christmas tree lightings. Finish it off by placing a star on top of your pine cone Christmas tree.
Sock Snowman
Do you want a cute little snowman sitting on your table? Let's make one! For this easy craft, you need a white sock, a colored sock, a handful of rice, elastic bands/threads, buttons, ribbons, and pompoms.
First, fill in the sock with rice, then tie the top with an elastic or a thread. Now, grab another elastic and tie the middle of the sock to form the head and body. Then, glue some colorful buttons to his body in a line and draw his mouth and eyes with a marker.
You could also add some pinkish cheeks and make his nose out of orange-colored pom poms. Then, you can glue a ribbon piece to its neck for a scarf and cut out the excess of the white sock. For the hat, you need to cut the foot of a colored sock and roll it a little bit. Now, secure it on the snowman's head with some glue.
Final Thoughts
Regardless of whatever you and your kids decide to do this Christmas, the most significant thing is you spending time with them. What more could anybody have asked for? So, give outdoor activities a bit of rest and get on with those creative crafty ideas!