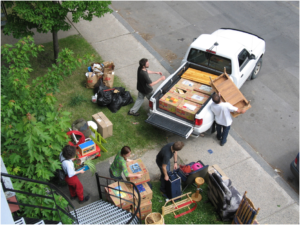 Moving home can be a costly process. After saving up for a deposit on a new place, many of us can fail to budget for the extras that are needed to make the move happen. Here are a few ways that you can trim down costs and make moving home less expensive.
Don't use an agent
Agents can take away a lot of the stress of moving home. If you're selling a place, they can help to advertise it and handle viewings when you're at work. If you're looking for a new place to buy or rent, agents can give you a range of properties to look at and sometimes even negotiate down prices for you.
You will however spend more money for the convenience of an agent. When selling a property, they may charge commission on the sale, as well as charging a seller fee. If you're renting a property through an agency, they may charge an agency fee on top of their services. In most cases, buying through an agency is free, but even this is changing with some real estate brokers charging buyers and sellers.
It's possible to advertise your own property cheaply online using listings sites such as Prime Location and social media. When looking for a place to buy, you can then contact the seller directly. Similarly, if you're looking for rental opportunities, you can contact landlords directly. You won't pay any agency fees this way, saving costs.
Negotiate fees
Many fees involved in the moving process can be negotiated. This includes everything from conveyancer fees to removals agency fees. Going through a bigger company may result in a fixed fee, but smaller traders will usually be willing to negotiate.
Use the right removals service
According to a professional movers threemenandatruck.net, "the cheapest removals option can depend on how many possessions you're moving and the distance of your move. For local moves with few possessions, you're usually best off hiring a van for the day. You can shop around for van hire to get the best price.
If you're moving lots of possessions of traveling a long distance you may be better considering moving companies like myBekins. This could be more economical as such a company will be able to use a lorry and make fewer trips. Moving companies also employ experienced workers that can move items fast and efficiently, minimizing potential damage.
Get help from friends and family
Your friends and family could be cheap labour for the day. They may be able to help with the move itself, transporting furniture and items around for you. This could help to get the job done more quickly. Alternatively, you may be able to use them to babysit children during the move or look after pets to prevent them from getting under your feet. Even if they do expect payment for giving you a hand, it will likely be a lot less than paying professionals. It may not be appropriate in all circumstances, but could help for those that doing a small move on a tight budget.