MOM! Can I have a snack?
It's 2 hours before dinner and the kids are hovering looking for a snack. I hate to say no but I know giving in will just ruin their appetite. Shae suggested we make oatmeal power bites. They are small enough to curb an appetite but are still healthy so I don't feel guilty.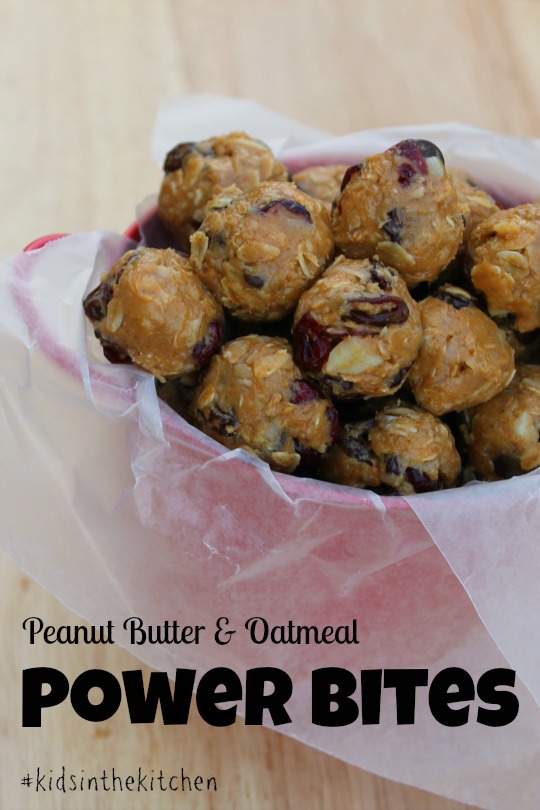 Best of all they are a no bake treat the kids can do almost all by themselves.
Oatmeal Peanut Butter Power Bites
1 1/4 cups old fashioned oats
2/3 cup creamy peanut butter or other nut butter
1/2 cup honey
2/3 cup coconut, toasted if preferred
1/2 cup mini chocolate chips, any flavor
1/4 finely chopped macadamia nuts
1/2 cup raisins
1/4 dried cranberries
1/2 tsp cinnamon
Dump all of the ingredients into a large bowl. With a rubber spatula mix thoroughly till combined. Chill in fridge for 1 hour.
Form into balls with the palms of your hands. If you find the mixture too sticky add 1/4 more oatmeal. If the mixture is too dry add 1 tbls more peanut butter.
Store in fridge to keep them firm but these can be eaten at room temperature. They are high in protein and good fats so feel good about the kids popping 2 or 3 after a hard day of play.
*Make these how you want them to taste. Substitute with white chocolate chips, dark chocolate shavings, pecans, chopped dates or figs, nutmeg and smoked sea salt. It's all about ratio, add about 1 cup of "toppings".
**Boost the health factor by adding a couple teaspoons of flax seed, chia seed, hemp or wheat germ.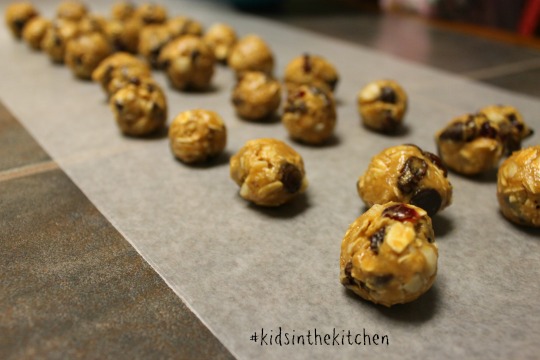 Come join me and my co-hosts, Sarah of Play to Learn with Sarah, Paula at Frosted Fingers and Sara at Sensibly Sara, each week linking up a post, new or old, that feature the theme Kids in the Kitchen. It doesn't matter what you are doing as long as you are doing it together, enjoying it and learning something along the way.
preparing healthy snacks
having a tea party
discovering a local restaurant that your kids love
creating new family friendly recipes
You'll find so many more ideas on the #KidsintheKitchen Pinterest Board.

Follow Melinda Babiak's board #KidsintheKitchen on Pinterest.