Somedays I crave a little snacking food. Lately it's been all about tomatoes; fresh salsa from the deli, roasted beefsteaks with parmesan cheese and today it was brushetta that was calling my name. I made this a while back for my family and it got really good reviews. It's such a simple dish I'm not sure why I don't make it more often. This amount serves 4-5 but can easily be doubled or quadrupled for larger gatherings.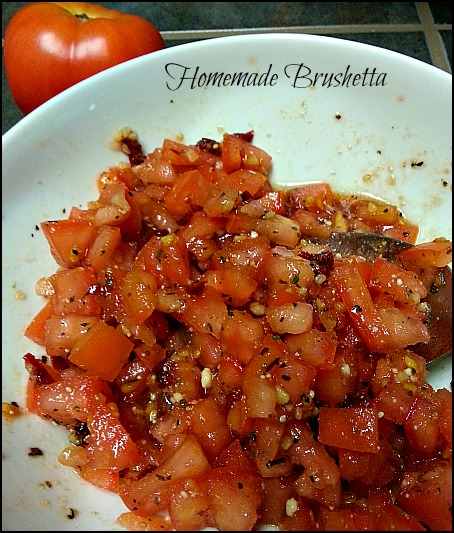 Fresh Brushetta at Home #Recipe
Ingredients
4 Roma Tomatoes
4-5 Sundried Tomatoes
2 tsp finely minced garlic
1 tsp dried basil or 6-10 leaves fresh basil finely chopped
1/4 tsp salt
1/4 tsp fresh cracked pepper
1-2 tbls grated Parmesan cheese (fresh is best)
1 tsp Balsamic Vinegar
1 tbls Extra Virgin Olive Oil
Instructions
Rough chop Roma tomatoes, finely mince dry packed sun dried tomatoes or finely chop marinated sun dried tomatoes.
Add all ingredients into a bowl, mix well and set aside for 1-2 hours.
Serve with thin sliced baguette or as a pasta topping.
http://lookwhatmomfound.com/2013/02/homemade-brushetta-recipe.html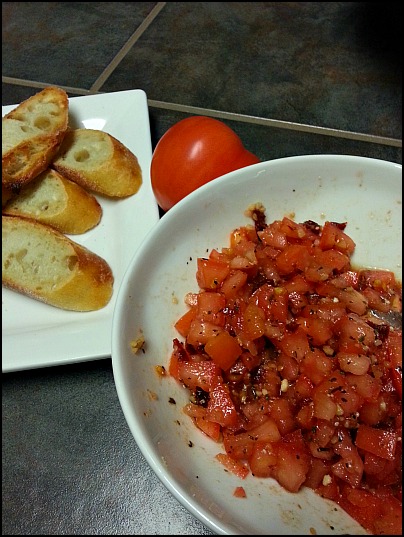 The sundried tomatoes boost the flavor and the Balsamic Vinegar gives it a great earthy sweetness. Fresh tomatoes are best but if canned are all that is available then I suggest a high quality, no salt added organic diced tomato.