How quickly do you think Isabelle Palmer, American Girl's 2014 Girl of the Year, is going to dance her way into your hearts.
Each year American Girl launches a new doll to celebrate the triumphs, achievements, aspirations and dreams of children all over the world. Isabella Palmer is a dancer with many talents including fashion design for what else, ballet costumes. Isabella has some difficulties when she starts a new dance school but she finds a way to shine and stand out without losing who she is inside.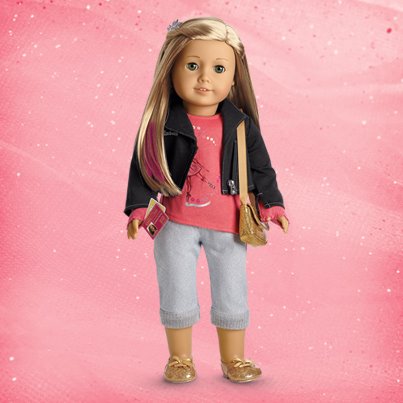 American Girl Doll of the Year run $120. It's a steep price for a doll but each one comes with her own extraordinary story of triumph and acceptance. Typically each doll comes with a story book where you and your child learn all about the girl and her life. Isabelle has 3 stories devoted to sharing her tale. I'm guessing the popularity of her dance background might have something to do with it.
A girl needs her accessories and Isabelle's are amazing!
Isabelle's Studio– 24-piece set features a beautiful armoire, sewing table, sewing machine, and lots of accessories $275
A beautiful white armoire with mirrored doors and ballet-barre handles—it opens to reveal drawers, fabric pockets, and a sewing table
A pretend sewing machine that lights up, with a needle that moves at the touch of a button
An upholstered stool with a yellow bow tied around the legs
A dress form with a copper-colored base—perfect for designing her dance fashions
Three fancy hangers to keep outfits organized
Three faux spools of thread that fit on the sewing machine spindle
Three fabric swatches for her original creations
A sewing basket that holds a fabric pincushion, pretend scissors, and a mini measuring tape
A sketchbook for planning designs
A paper hatbox with diamond graphics for storing supplies
Three black-and-white photos to decorate her space—one is signed by her idol, Jackie Sanchez!
Two tickets and a ballet program for the Autumn Festival
Isabelle's Dance Barre–Girls can give Isabelle the perfect place to practice her pliés! $65
A ballet barre
A foam yoga mat so Isabelle can stretch to warm up
Ballet slippers to help her glide on the floor
Pink pilates straps—your girl can slip them over Isabelle's hands or feet to help her hold a pose!
A faux water bottle to keep her hydrated
A purple support bandage that wraps around her ankle
Isabelle's Performance Set–Isabelle designs this spectacular costume for her Waltz of the Flowers ballet performance $38
A sleek unitard
A flowy tutu skirt made of layers of mesh and tulle
A show-stopping corsage of satin flowers embellished with ribbons, mesh, rhinestones, and sequins
Shimmery satin dance shoes with crisscross ankle ribbons
A starry rhinestone tiara and jeweled wristband that dazzle in the spotlight
American Girl Dolls are a special kind of luxury for young girls. The story they share give girls hope for their own dreams and desires. Isabelle Palmer is only around till 12/31/14 or until supplies last.